« Emperor | Home | Maker Faire: LEGO Brick »
Bay Area Maker Faire 2010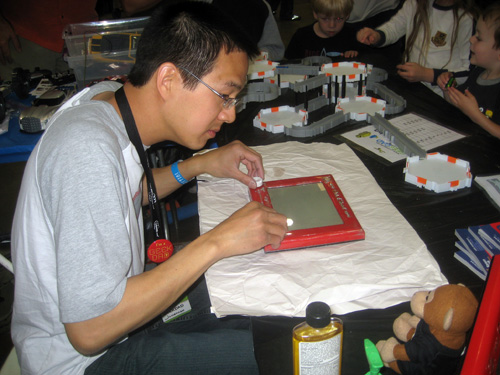 This past weekend I attended the Bay Area Maker Faire with GeekDad. It was my first time at a Maker Faire, though GeekDad has had a presence there for the past few years, and it was a lot of fun. The atmosphere reminded me a little of the Last Thursday Artwalks on Alberta, with a lot of people doing crazy things with bikes and fire. (Apparently there's a pretty big Burning Man contingent to Maker Faire.) But there's also a lot of gadgets, tinkerers, robots, and things that aren't usually seen at a Portland Artwalk.
I had a lot of fun and spent a lot of time at the GeekDad booth, doing quick Etch-a-Sketches and a couple permanent ones. I'll post a few of the sketches I did; please excuse the image quality, since space and lighting wasn't ideal for getting the best pics.
Also, if you're interested, you can listen to the GeekDad podcast from last night, where we talk a lot about Maker Faire and some of the other GeekDads brag about my Etch-a-Sketching. I also wrote about making the Timmy Etch-a-Sketch for GeekDad.
May 25, 2010
Comments
Post a comment
Thanks for signing in, . Now you can comment. (sign out)
(If you haven't left a comment here before, you may need to be approved by the site owner before your comment will appear. Until then, it won't appear on the entry. Thanks for waiting.)