« Bird Painting on Window | Home | Soapbox Derby - Initial Sketch »
Windmill Painting on Window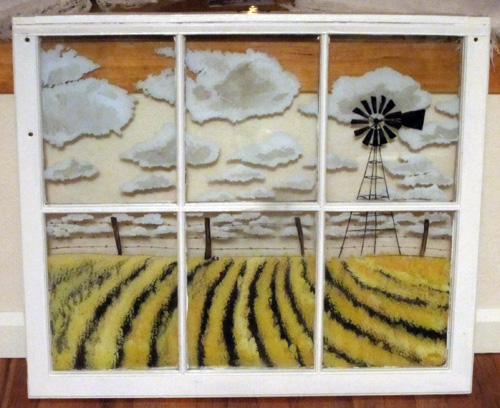 I was commissioned to do this window painting for a Kansas Agriculture and Rural Leadership (KARL) fundraising auction. I decided to go with a Kansas wheat field and a windmill, both things that come to mind when I think about Kansas agriculture. I love driving by the fields and watching the rows appear and disappear as I line up with them.
I wasn't sure how the rows would turn out, but I sketched out the drawing with a China marker on the glass, and then painted over it. I like how the fields turned out, though it's tricky to plan ahead when the first thing you paint is going to be on the top "layer" and anything you add later will appear to be behind it.
I debated painting the sky blue behind the clouds, but I really like the 3D effect of the floating clouds, so I suggest painting your wall blue (or some other color of sky) behind the painting for the best effect.
June 05, 2011
Comments
Post a comment
Thanks for signing in, . Now you can comment. (sign out)
(If you haven't left a comment here before, you may need to be approved by the site owner before your comment will appear. Until then, it won't appear on the entry. Thanks for waiting.)