News Archives
Announcements about shows and events, new products, and what's happening in the world of Rainy Bay Art.
All Pages |
Page 1
|
Page 2
|
Page 3
|
Page 4
|
Page 5
|
Page 6
|
Page 7
Bay Area Maker Faire 2010
This past weekend I attended the Bay Area Maker Faire with GeekDad. It was my first time at a...
May 25, 2010
Save the Star Theater: "Guardian Star" Temari Ball
For those of you who are interested, I've put my "Guardian Star" temari for sale on eBay to raise...
April 11, 2010
How do you keep it from erasing?
This is the most common question I get about my Etch-a-Sketch art: how do I keep it from erasing? What...
November 13, 2008
PULSE 2008
I had a great time Etch-a-Sketching at PULSE this year, using my new technique which involves transferring the glass...
November 11, 2008
PULSE 2008 - Save the Date
I'm pleased to report that I'll be flying back to Portland in November to make some Etch-a-Sketches for PULSE...
September 13, 2008
Greeley County Library Card

June 13, 2008
depARTed show coming up!
For anyone who will be in the Hollywood area in the next month or so, I've got a piece that...
April 18, 2008
Cookie Magazine
If you happen to see Cookie Magazine's September 2007 issue, take a look at page 158. I did a simple...
September 04, 2007
Moving Out
Well, it's just about time to bid Portland farewell! In August I'll be moving east to Tribune, Kansas, where my...
July 04, 2007
Last Chance Artwalk
Well, folks, this is probably it: my final Last Thursday Artwalk on Alberta. By the end of June I'll be...
May 24, 2007
Upcoming Events
I'm counting down the months before I move to Kansas, and I'm hoping to cram in as many artwalks as...
April 23, 2007
Fifteen Minutes
Set your Tivos and VCRs! (Or, if you're like me and you have no Tivo and your VCR doesn't work...
March 20, 2007
SE Portland Artwalk 2007
It's that time of year again, when the crocuses start pushing up and a bunch of artists in the Southeast...
February 15, 2007
PULSE 2006 recap
I did make it to PULSE after all (my baby girl was born a week ago) and had a...
October 08, 2006
Drill & Drain
I finally have a photo of me drilling and draining an Etch-a-Sketch, so here's a more detailed description of...
October 08, 2006
PULSE 2006
PULSE is back! It's a benefit party for the Children's Heart Foundation, featuring 40 artists making artwork as you watch....
September 26, 2006
Last Hurrah
Come on out to the Last Thursday Artwalk, August 31st! This will be my last appearance for the year, since...
August 15, 2006
Last Thursday Artwalk
I've been absent from the Last Thursday Artwalk for a while now, but the Art-o-matic is making a reappearance this...
July 24, 2006
First Thursday @ Northrup Station Inn
The folks at Northrup Station liked my Etch-a-Sketches so much that they've invited me back. This time I'll be the...
May 26, 2006
First Thursday @ Northrup Station Inn
I'm participating at the 1st Thursday @ the Inn in a couple weeks, so mark your calendars! Date: Thursday April...
March 22, 2006
Glove Story

Adventure! Excitement! Lost Gloves!

March 17, 2006
Photo update
I've posted the six new Portland Landmarks ink drawings (they're backdated to February, when the drawings were completed), as well...
March 13, 2006
Artwalk 2006 Recap
A big thanks to everyone who helped make this artwalk happen, from babysitters to musicians to cooks, and to...
March 09, 2006
SE Portland Artwalk 2006
It's almost time for the SE Portland Artwalk again, and I've got a few new Etch-a-Sketchings (including the smaller Travel...
February 03, 2006
Etch-a-Sketch Commissions
Hello, there! If you like the Etch-a-Sketchings on my site and think, "Hey, that would make a great gift!" or...
January 09, 2006
Pulse Benefit Party, recap
The Pulse party was a lot of fun, and they raised a lot of money for the Children's Heart Foundation....
October 16, 2005
PULSE benefit party
I've signed up to do my 5-minute Etch-a-Sketchings at PULSE, a fund-raiser for the Children's Heart Foundation. There will be...
October 02, 2005
Artwalk #100
Art on Alberta is celebrating their 100th artwalk at next week's Last Thursday, plus the artwalk season is winding down...
September 20, 2005
Art-o-matic 2.0
If you came out to Last Thursday last month, you might have seen the Art-o-matic, an amazing piece of...
August 22, 2005
Art-o-matic!
While it may look like a cardboard box painted white with some holes cut in it, it actually houses some very advanced art-making technology.
July 27, 2005
Division/Clinton Street Fair
The Division/Clinton Street Fair is this coming Saturday, and you should be there! It's on Division from 12th to 50th,...
July 18, 2005
Last Thursday Artwalk
I've been out in rural John Day, Oregon, for the past five weeks, where my wife was doing a rural...
June 30, 2005
Pricing
Although my website isn't set up for purchasing, much of the artwork I have displayed here is for sale. Any...
April 10, 2005
First Thursday Street Gallery
I'll be at the First Thursday Street Gallery this evening, from roughly 5:00 until 10:00. I'll be showing some Etch-a-Sketches,...
April 07, 2005
Imago Dei Winter Art Exhibit
'Divine Angst: A Spirituality of Suffering' Come and see Imago Dei's Lent inspired art show entitled 'Divine Angst: A Spirituality of Suffering' throughout the month of April, from 6:30 - 9:00 p.m. Urban Grind Coffeehouse (2214 NE Oregon)
March 15, 2005
Photos from the Artwalk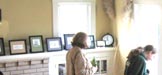 March 09, 2005
Acknowledgments
A bunch of thanks for all the help at the artwalk!
March 06, 2005
SE Portland Artwalk Update
The artwalk is fast approaching, and I've got information galore! First, the map and artist list are available here: Artwalk...
February 23, 2005
SE Portland Artwalk
I've been accepted to participate in the SE Area Artwalk in March, and I just wanted to start spreading the...
February 10, 2005
Rainy Bay Art 2.0
Welcome to the newly redesigned Rainy Bay Art website!
February 04, 2005
T-shirt designs
I submitted three tee shirt designs to Threadless.com to be voted on and hopefully printed. Here are links to the...
February 04, 2005
Painting Notes
A few notes about my paintings.
March 01, 2004
Jack-o'-lantern FAQ
The method behind the madness of pumpkin-carving.
October 01, 1999
Sketchpad Notes
Some brief notes about the sketchpad category.
October 01, 1998
Etch-a-Sketch FAQ
Questions you wonder about my Etch-a-Sketchings with smart-aleck answers.
April 01, 1998
All Pages |
Page 1
|
Page 2
|
Page 3
|
Page 4
|
Page 5
|
Page 6
|
Page 7