« Paris Cityscape | Home | Art-o-matic 2.0 »
Art-o-matic!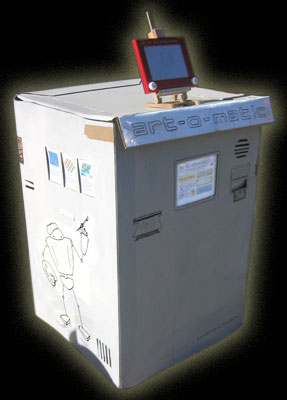 It's that time of month again, when the crowds flock to NE Alberta to enjoy the arts & crafts, music, food, and general festivities of the Last Thursday Artwalk. I've been working hard on a new display, the Art-o-matic. It was previewed at the Division/Clinton Street Fair last Saturday, but if you come check it out tomorrow you'll get to see it in action!
I'm normally at about 21st Ave and NE Alberta, but don't look for me this time. Instead, look for the Etch-a-Sketchings display and the Art-o-matic. Don't be fooled by its outer appearance! While it may look like a cardboard box painted white with some holes cut in it, it actually houses some very advanced art-making technology.
Currently the Art-o-matic sells my Penny Arcade postcards, Portland Landmark greeting cards, 5-minute Etch-a-Sketches, Ridley postcards (drawn by my 19-month-old daughter), and a new item called Postcartoons. Postcartoons are on-the-spot cartoon postcards, drawn to order as you wait! In the future the Art-o-matic may be upgraded to include other items as well. Look for it at future First Thursday events.

July 27, 2005
Comments
That Art-o-matic looks suspiciously like a cardboard box. I wonder what one might find inside it?
Posted by: Chris at August 1, 2005 11:47 AM
Post a comment