« Portland Skyline II | Home | Photo update »
Artwalk 2006 Recap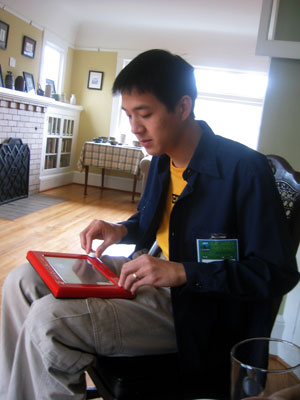 A big thanks to everyone who helped make this artwalk happen, from babysitters to musicians to cooks, and to everyone who came out and had a good time with us! I'm sure I've forgotten somebody, but here's a quick list:
+ JD & Deirdre for being gracious hosts and letting us take over their house for a week (and more)
+ Gabe and Amanda for the great ceramics, food, and general artwalk help
+ All the musicians (see the list on the schedule), with an extra hand for Todd Aschoff and David Gerow who got coaxed into it last-minute, and Dan & Summer for bringing the sound equipment for everyone to use; go visit all their websites, buy all their CDs, and support local musicians!
+ Robyn and Jenn for baking yummy sweets
+ Diane, Tom, Jenn, and Edward, for babysitting duties so I could finish up artwork
+ Tom, Randy, and Jon for help with setup and moving tables
+ My lovely wife Robyn for supporting my art habit and my delightful daughter Ridley for putting up with her busy busy dad

In the next few weeks, watch for more photos from the artwalk, the new ink drawings and Etch-a-Sketchings (including Travel-size pieces), and the extemporaneous sketchings of musicians. In the meantime, check out the Portland Skyline Travel Etch-a-Sketching and get a raffle ticket (before March 17) if you haven't already!

March 09, 2006
Comments
Post a comment