« SE Artwalk '06 Musician: David Gerow | Home | Artwalk 2006 Recap »
Portland Skyline II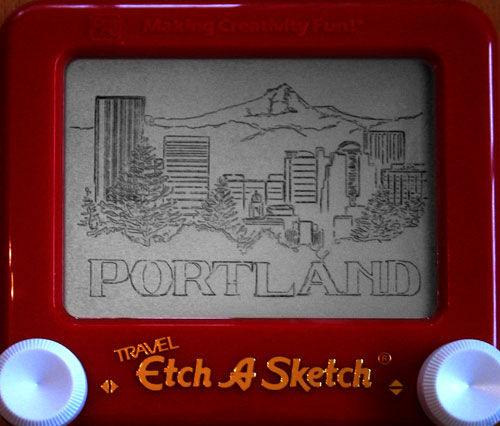 This is one of my first Travel-sized Etch-a-Sketches, and this particular piece is not available for sale, but is a prize for a raffle drawing. My host for the artwalk, Deirdre Donovan, is participating in the Ride for World Health, a cross-country bike ride to raise money for Partners in Health. We sold raffle tickets at the artwalk for this piece and a casserole dish by fellow artist Gabe Miller.
Update (3-18-06): The drawing was held March 17. Congratulations, Heidi, for winning this piece, and thanks to everyone who bought raffle tickets!

Deirdre has a blog in case you'd like to follow her cross-country bike ride.
March 09, 2006
Comments
Post a comment